Please help us share this movie links to your friends. So that we can improve our services to provide for you better services in further!

Share this movie links to Facebook, Twitter, Google+, Reddit to help us improve our services more good quality!

We really appreciate your help, Thank you very much for your help!


Share Carrington movie to your friends by:


Version 1
Server Veoh
Version 2
Server MovShare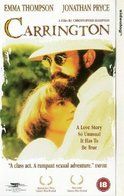 Movies:
Carrington
Director:
Christopher Hampton
Cast:
Emma Thompson, Jonathan Pryce, Steven Waddington
Production Co:
PolyGram Filmed Entertainment, Freeway Films, Cinéa
Genres:
Biography, Drama
Runtime:
121 min
Country:
UK, France
Release Date:
1995
The story of the relationship between painter Dora Carrington and author Lytton Strachey in a World War One England of cottages and countryside. Although platonic due to Strachey's homosexuality, the relationship was nevertheless a deep and complicated one. When Carrington did develop a more physical relationship with soldier Ralph Partridge, Strachey was able to welcome him as a friend, although Partridge remained somewhat uneasy, not so much with Strachey's sexual orientation as with the fact that he was a conscientious objector...